BMW X5 E53 11/00 ~ 02/07 FRONT INNER DOOR HANDLE RH SIDE R50-HOD-5XMB
Product Code:

162169937822

Availability:

In Stock
BMW X5 E53 11/2000 ~ 02/2007 FRONT INNER DOOR HANDLE RIGHT HAND SIDE R50-HOD-5XMB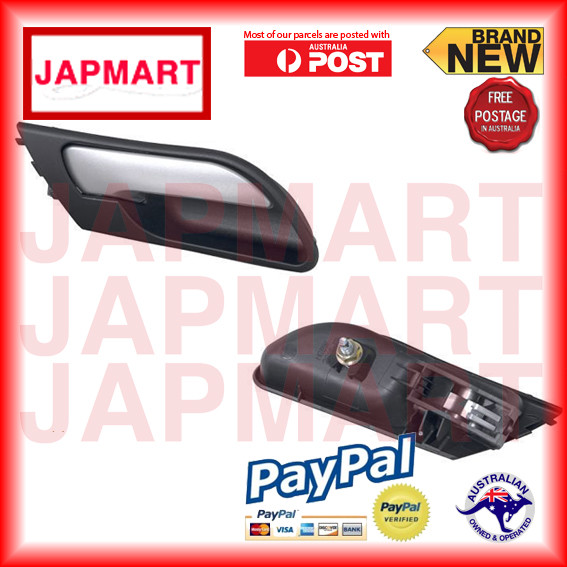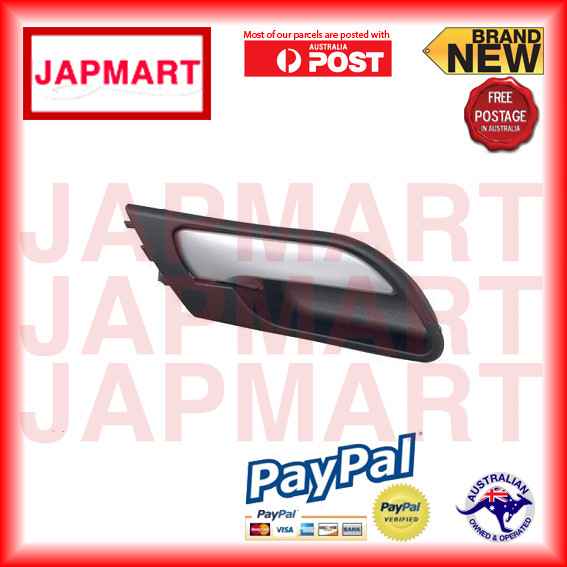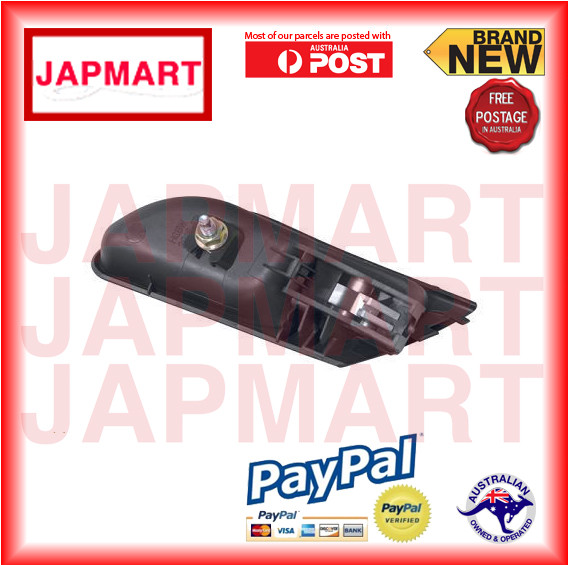 BMW X5 E53 11/2000 ~ 02/2007 FRONT INNER DOOR HANDLE RIGHT HAND SIDE R50-HOD-5XMB



Jap Mart is one of Australia's premier online suppliers of automotive car and truck parts.

We supply a wide range of brand new after market and genuine spare parts to suit : European, Japanese, Korean, English, American, Australia vehicles and more. Our customers enjoy the benefits of the unbeatable prices and our focus on customer satisfaction.

With over 180,000 different items, you can be certain to find what you are looking for.

We supply wholesale prices to the public and trade.

Here at Jap Mart, we value your time and money as much as we value our good name in the business so we ship your ordered parts within the soonest possible time, usually no longer than 1 working day. Wherever you are across the country, you can expect to get your purchased car parts hassle free without delay. That is part of our commitment to bring to you all the best that we can, all the time.

The focus of our business has always been the vehicle owners. We want you to get the most out of your vehicle and have a smooth, safe ride wherever you are. We also want to give you better choices for car accessories, other than what the dealerships offer and that is exactly what we have set out to do. We provide affordable part solutions quickly, without problems at much lower prices.

Jap Mart is a online auto house where you can find a suitable match for your vehicle?s most urgent needs, a place where you can also take full advantage of exclusive deals every day. Over the years, we?ve put together a rich selection of auto parts and accessories to suit most makes and models. We offer products from the industry?s most trusted brands, so you can be sure that the parts will work, fit, and last just as promised. We?ve made shopping so much simpler in every way possible. Going the extra mile to ensure utmost shopping convenience has always been part of our winning business strategy.



Purchase is for 1 listed item only. You are paying for a single item and will receive one only. We have , x2 - x4 etc in some listings as a guide only, as you may require multiple units.

We also sell



| | |
| --- | --- |
| BMW | Antenna |
| BMW | Apron |
| BMW | Bar |
| BMW | Bar Moulding |
| BMW | Bar Reinforcement |
| BMW | Bar End |
| BMW | Bar Bracket |
| BMW | Bar Filler (Middle Apron) |
| BMW | Bar Insert |
| BMW | Bar Blinker |
| BMW | Bar Lamp Cover |
| BMW | Bar End Blinker |
| BMW | Bar Support |
| BMW | Blinker Switch |
| BMW | Bonnet |
| BMW | Bonnet Hinge |
| BMW | Bonnet Lock |
| BMW | Bonnet Mould |
| BMW | Bonnet Strut |
| BMW | Bottle for Rad/Wash |
| BMW | Coil Resistor |
| BMW | Condenser |
| BMW | Corner Lamp |
| BMW | Corner Lamp Lens |
| BMW | Cowl Panel |
| BMW | Door Shell |
| BMW | Door Handle (In & Out) |
| BMW | Door Mirror |
| BMW | Door Mirror Head |
| BMW | Exhaust Bracket |
| | |
| --- | --- |
| BMW | Fan for A/C |
| BMW | Fan for Radiator |
| BMW | Fan Blade |
| BMW | Fan Shroud |
| BMW | Fog Lamp |
| BMW | Fog Lamp Cover |
| BMW | Gauge Mould |
| BMW | Grille |
| BMW | Grille Mould |
| BMW | Guard |
| BMW | Guard Flare |
| BMW | Guard Trim |
| BMW | Guard Liner |
| BMW | Guard Mould |
| BMW | Guard Repeater |
| BMW | Guard Support |
| BMW | Harness |
| BMW | Head Lamp |
| BMW | Head Lamp Cover |
| BMW | Head Lamp Lens |
| BMW | Head Lamp Housing |
| BMW | Head Lamp Mould |
| BMW | Head Lamp Panel |
| BMW | Ignition + Door Locks |
| BMW | Ignition Switch |
| BMW | Indicator Lamp |
| BMW | Latch |
| BMW | Light Case |
| BMW | Mirror (Inner) |
| BMW | Mud Flap |
| | |
| --- | --- |
| BMW | Nose Panel |
| BMW | No. Plate Holder |
| BMW | Overflow Bottle |
| BMW | Panel |
| BMW | Power Steering Hose |
| BMW | Radiator |
| BMW | Radiator Support |
| BMW | Reflector (Garnish) |
| BMW | Reinforcement |
| BMW | Roof |
| BMW | Roof Rail |
| BMW | Sill Panel |
| BMW | Skirt |
| BMW | Snorkel |
| BMW | Tail Lamp |
| BMW | Tail Lamp Lens |
| BMW | Tail Lamp Housing |
| BMW | Tail Gate |
| BMW | Tail Gate Handle |
| BMW | Tail Gate Lock |
| BMW | Tail Gate Strut |
| BMW | Washer Bottle |
| BMW | Window Regulator |
| BMW | Window Switch |
| BMW | Water Pump |
| BMW | Air Cleaner Hose |
| BMW | Air Filter Box |
| BMW | Asorber Strut Mount |
| BMW | Ball Joint |
| BMW | Brake Caliper |
| | |
| --- | --- |
| BMW | Control Arm |
| BMW | Centre Bearing |
| BMW | Door Lock |
| BMW | Engine Mount |
| BMW | Globe |
| BMW | Hinges |
| BMW | Power Steering Pump |
| BMW | Power Steering Rack |
| BMW | Rackend |
| BMW | Radiator Pipe |
| BMW | Receiver Drier |
| BMW | Spoiler |
| BMW | Steering Shaft |
| BMW | Starter Contact |
| BMW | Strut Mount |
| BMW | Sway Bar Link |
| BMW | Tensioner |
| BMW | Universal |
| BMW | Wheel Hub |
| BMW | Wiper Link |
Most goods will be posted via Australia Post where size is permitted. Oversized items will be posted via alternative services.
A 1-5 business days handling time may be required, however goods are usually shipped the next business day.
Most parcels will be sent via registered post.
There may be postage charges to regional and country areas on heavier and bulkier items.
Reasons for Order Delays
Entry of an incorrect or incomplete address during checkout, we use your ebay address.
The designated address had no-one available.
Incorrect payment details were entered while placing the order. Please check all details at checkout are correct as your order will only be posted when paid for in full.
If your order is flagged for verification we may need to get in contact with you via telephone before posting out your goods. If we are unable to verify the shipping destination to protect the card holder this may delay shipping.
Occasionally if a particular product is in high demand we may need to supply product from outside of our standard delivery network. This can cause delays in dispatch if orders are directed to regional locations etc. If the delivery time will take longer than anticipated, we will contact you to let you know.
Unfortunately we do not offer a pick up service
In these terms and conditions, "we" "us" and "our" refers to Jap Mart. Your access to and use of all information on this website including purchase of our product/s is provided subject to the following terms and conditions. The information is intended for residents of Australia only.
We reserve the right to amend this Notice at any time and your use of the website following any amendments will represent your agreement to be bound by these terms and conditions as amended. We therefore recommend that each time you access our website you read these terms and conditions.
You are purchasing after market brand new parts made close to genuine manufacturers specifications. Although the majority of our parts will match the genuine parts fitment, there may be rare instances where some parts may require modifications, plugs changed, rewiring, angle slightly off etc or adjustment to suit your vehicle.
Some vehicles may have multiple variations when it comes to certain parts eg: bumper bars, headlights, mirrors etc. Warranty of brake pads will be void if the discs have not been machined prior to installation of the pads.
Warranty on clutch plate will be void if flywheel is not machined prior to installing the new clutch. Some vehicles may have multiple variations when it comes to certain parts eg: bumper bars, headlights, mirrors etc.
Product Deidiocyions
We strive to ensure that our products are described as accurately as possible on our ebay store, however we do not warrant that the deidiocyion is accurate. Where we become aware of any misdeidiocyion, we reserve the right to correct any error or omission.
Images have been provided for illustrative purposes only and we do not guarantee that any image will reproduce in true colour nor that any given image will reflect or portray the full design or options relating to that product.
Product Orders
As per ebay policy our products are for sale to adults over the age of eighteen (18) years. By proceeding to purchase through our website, you acknowledge that you are over 18 years of age.
We endeavour to ensure that our product list is current however we give no undertaking as to the availability of any product advertised on our website.
All prices are in Australian Dollars (AUD) and are inclusive of GST and we reserve the right to amend our prices at any time.
When you order from us, we require you to provide your name, address for delivery, your email address and telephone contact. We undertake to take due care with this information; however in providing us with such information you accept that we are not liable for its misuse due to error in transmission or virus or malware.
We undertake to accept or reject your order within 7 days. If we have not responded to you within 7 days, your offer is deemed to be rejected. We are not required to give reasons for rejecting your offer to purchase however the most likely reason for rejecting your offer will be that we do not currently have that product in stock.
Once you have submitted an order, you may not cancel that order even if our acceptance or rejection of your offer is still pending.
Delivery of your ordered product/s will be as set out on our ebay store Title in the goods passes to you when we have received payment. Our terms of payment are set out on the order page.
All risk of loss or damage to the goods passes to you when we despatch the goods.
If products have been purchased in error or if you have changed your mind, you will be charged a 20% restocking fee, plus postage costs.
If purchased part un available after purchase we will offer a full refund or give the buyer the option to place order on hold till stock arrives and we will ship out .
All new parts will come with manufactures warranty unless listed otherwise , warranty will vary depending on parts purchased.
Warranty is only valid with a receipt stating part was fitted by a licensed motor vehicle repairer.
We strive to deliver the goods within the specified time frame, sometimes with third party supplier and courier companies, the delivery of goods may take a little longer than we anticipate.
Order Cancellation Due To Error
Where a product has been listed at the incorrect price or with incorrect deidiocyive information or image due to typographical error or simi
Top